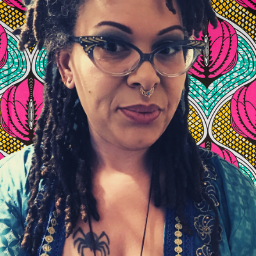 tasha fierce is the force behind mystic ferocious. tasha fierce is me.
my pronouns are they/them/the divine feminine. i am a queer disabled Black nonbinary femme, and i am also a writer, artist, activist, & witch.
i have studied (and practiced, off & on) tarot and divination, astrology, astral projection, folk herbalism, witchcraft, harm reduction, and peer counseling for over twenty-five years, but my primary qualification lies in having survived for forty years in an anti-Black, anti-femme society while existing as a configuration of bodymindsoul labeled femme, crazy, sick, queer, fat, nonwhite, Other.
oh, and somehow, while navigating the details of that survival, i also managed to advise and guide friends and community through spiritual, emotional, and financial crises big and small.
i had long sought to enter the healing arts field in some fashion, but i didn't consider the idea of becoming a crisis doula until 2019, when i realized offering insights that had the potential to transform peoples' lives was a skill that came easily and naturally to me. this revelation, combined with my just-completed studies of the sociology of mental illness (which illuminated the roughly equivalent power of a caring listener to a trained therapeutic professional), led me to take steps towards offering these kind of spiritual counseling services widely.
by calling myself a doula, i am not licensed or regulated by state agencies, and as an anti-capitalist & anti-colonialist, outside the mental health enterprise is exactly where i want to be. i remain accountable* to my clients, my communities, my ancestors, but i do not believe i need to break myself to conform to colonialist attempts to contain the ways we care for each other. and i would have to break myself to attain the levels of education and professional certification i need to offer my services as a counselor or therapist. thus, this is both a declaration and a warning–engage with my services at our risk. while i pledge to do no harm, and pledge to enter accountability processes for any harm i may do, i am not under any board supervision or anything like that.
did i mention i'm anti-capitalism? i'm also anti-white supremacy: i provide a sliding scale for all my offerings because i want my services to be accessible to my (Black) communities. i want white/cishet/abled clients to pay full price and subsidize free days for BIPOC/QTI folks.
ultimately, it is my intention that this is less of a business enterprise and more of an exercise in collective & mutual aid. it is my intention to redistribute resources, care, and energy to Black queer disabled community. it is my intention to be a conduit for ancestral healing, an agent of loving transformation, in whatever ways i can.
mystic ferocious is an offering to my people. mystic ferocious is me.
*i adhere to the nyc poc healing circle's honor code & healing oath, along with a general oath to do no harm. if any client feels i have violated that oath, i will invite them to enter into an accountability process driven by tj principles, mediated by a neutral third party, and funded either personally or via crowdfunding efforts.