autobiography of a femme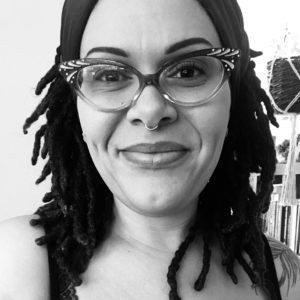 skip to requiem for a blog
poem version:
both force and part of nature
aspiring love warrior
high priestess of crazy
inhabiting the vanishing point
becoming eternally
blurb version:
Tasha Fierce is an infinite being. They are also: a crazy fat queer disabled nonbinary femme, a Black feminist, a writer, an artist, a facilitator, an activist , a gardener, an anarchist, a witch, a doula, a lover of shadow, and an intermittent ray of light currently residing in the occupied Tongva territory known as Los Angeles. Their essays have been published in White Riot: Punk Rock and the Politics of Race and Hot & Heavy: Fierce Fat Girls on Life, Love, and Fashion, as well as Bitch, EBONY.com, Bitch Planet and other publications. Their fiction appears in the anthology Nothing Without Us by Renaissance Press.
expanded version:
My name is Tasha Fierce.
I am:
– 40 years of age
– Black.
– a queer nonbinary femme (current pronouns are they/them/the divine feminine)
– currently in a long term non-monogamous relationship
– a Black feminist [which for biographical purposes means I firmly believe in challenging white supremacist imperialist capitalist cisheteropatriarchy and dismantling matrices of oppression, all while practicing love, compassion, and transformative justice principles] – fat.
– an anarchist/I believe the best we can hope for is decentralized, non-hierarchical, and collectivist administration of resources
– a witch.
– a tropical Aries sun, with a Taurus ascendant and moon in Leo; or a sidereal Pisces sun with a Leo ascendant and moon in Cancer
– an INFJ-A, if you dig the Myers-Briggs personality sorting thing
– a vegetarian/vegan for the most part, but being broke you can't always be picky
– disabled, which parses into me being:
– a crazy person
– a person with chronic pain (fibromyalgia, iatrogenic injury, IBS)
– a sometimes-mobility-impaired person
I have no children. I also have no fallopian tubes, by choice.
Instead of caring for children, I care for animals and plants. The main animal in my life is my partner Rob, the compost that feeds my psychic garden. Together we take care of a house full of plants, a fluffy orange tabby named Zuri, and a family of stray cats that decided to take refuge on our patio. All of us live, love, and dream in the occupied Tongva/Gabrieliño territory known as Los Angeles.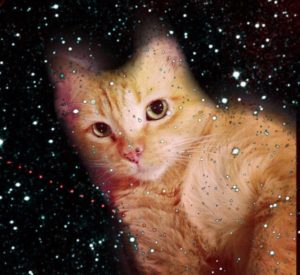 Things I love: art, revolutionary thought, afrofuturism, science fiction/fantasy, amateur philosophy, gardening, making stuff, whales, the ocean, ritual, music, singing, reading, writing, math, magic, science, spirituality, compassion, learning, growing, loving, laughing
Things I dislike: bigotry, racism, sexism, transmisia, homomisia, colorism, fatmisia, ableism, narrow-mindedness, insecurity, scarcity complexes, stagnation
You can contact me at [email protected], but be forewarned: I generally answer emails on some combination of crip/CP/queer time and I prioritize offers for paid work.
For a more one-sided experience, check out my sporadic insights at @tashajfierce, my plant pics, art & writing on Instagram, my general saltiness towards the WSCCAP on my personal Facebook , and my writing/updates on my FB author page.
requiem for a blog: 2010-2018
skip to autobiography of a femme
I used to refer to this whole site as my blog. But it's evolved into more than just that, and I'm hoping that eventually the blog is the last thing people are looking for when they come to this place. To speed that along, I decided to change the site's structure to shift attention away from the blog section and towards my other writing. I also archived most of the posts pre-2016, so they don't appear in the main blog listing.
I'm focused more on fiction and poetry and less on essays, but I'll still update with musings whenever I want, and I will still call the place where I put those musings my blog. But to my mind, the blog that once was is now dead. Long live the new.
Here's some backstory on the various incarnations the blog went through before it finally became just another part of the site.
________
Not trying to brag here, but I've been writing since I was 2 years old and there's been writing of mine on the Internet since 1996. However. Starting the ancestor of the blog that now lives at tashafierce.com/blog heralded a new era in my writing life. It planted the seed in my mind that writing was something people got paid to do.
Since I started that blog in 2010, I've been published in books and magazines and people have talked about me on the radio and I've been cited in academic papers. Shit is wild, yo.
But in spite of my long time BFF status with the written word, I found myself drifting away from writing a couple years after I started the blog. I stopped writing longhand because I habitually hold my hand funny and it cramps, and I stopped writing online because I felt like what I wanted to write about was off-brand. (Note from the future: I guess I worked that cramp out and through my soul, because I can write for extended periods of time longhand now, and I do.) Writers and blogs are supposed to have a brand, and your writing serves to sell that brand, right? And so because I didn't feel the same writerly passion for topics that were on-brand, I just didn't write at all. My increasing restlessness with the demands of "branding" (and matching that brand to an identity that was in flux) was reflected in my perpetual domain shifting over the course of the blog's lifespan. It started out as Red Vinyl Shoes, then became Sex and the Fat Girl, Tastefully Ratchet, and Garden Variety Revolution. Finally, I decided to stop trying to come up with a cute moniker because my fickle ass gets tired of names way too easily, and I just put my name up there.
Since my purpose has changed over the past eight years, there's a lot of disparate content in the archive. There are articles from when I was a 29 year old wannabe fashionista who thought she wanted to focus on plus-size fashion blogging, and pretty much all of the writing on sex and dating and fat was penned in the period after I separated from my ex and I was trying to date again (after almost 10 years of marriage). Just be aware that my identity and my ideas on some of the topics covered have evolved, so I'd likely have a different take if you asked me now.