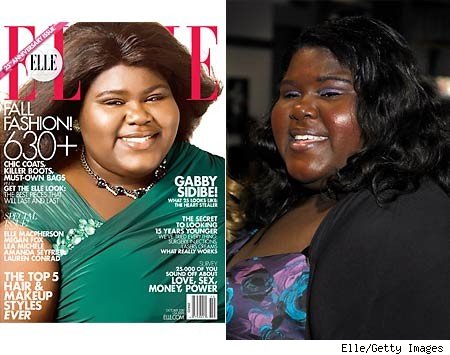 For ELLE magazine's 25th anniversary issue, they featured four different 25-year-old actresses on four different covers of the magazine. One of those actresses is Gabby Sidibe. This choice naturally brought out the fatphobes decrying her health and questioning her level of attractiveness before the cover even came out. Now that it's dropped, well, there's a lot for folks to talk about besides playing "guess her health status".
Some pointed out that she's lighter on the ELLE cover than she was on the cover of Ebony and in real life. ELLE insists it did not overdo it with the Photoshop, but as with other black celebs, it is a matter of course for any magazine to lighten their skin. It's not particularly shocking anymore, although that doesn't mean we shouldn't call mags out for it. Others weeped for the state of Gabby's weave, which I do have to admit does look pretty jacked up. One interesting criticism of the cover that I've read in comments on these articles and elsewhere is concerned with how the cover was shot. Whereas the other three thinner celebrities are featured in full-body shots, Gabby literally covers the magazine. To some, this is an insult regarding her size. I wonder, what's wrong with looking fat when you are fat?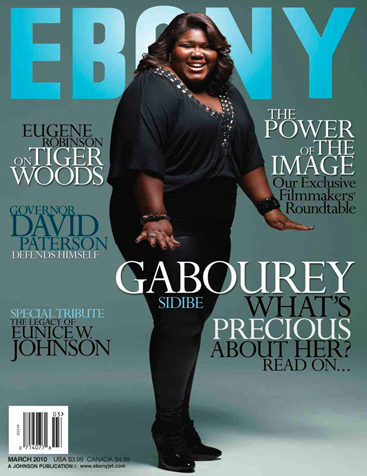 We all, including Gabby, know that she's fat. Even if she was shot full-body, she'd still be fat, and people would probably still be upset about it for various reasons including the fact that she's on the cover at all. There's nothing unflattering about being fat and appearing fat. So many fashion tips for fat women are focused on minimizing the appearance of our fat, wearing "slimming" clothing and basically trying to look as nonfat as possible. When we see a magazine cover featuring a fat woman not trying to beat back the fat but rather celebrating her size, it goes counter to everything fashion mags try to teach us about camouflaging fatness and therefore causes some to feel that she's been "done wrong".
Gabby may take up the whole cover with her size, but her (deserved) self-confidence takes up just as much room — refreshing, to say the least.