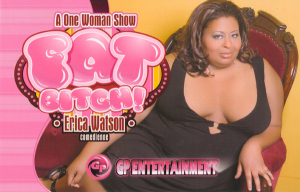 I had the pleasure of attending the April 30 performance of Erica Watson's "Fat Bitch!" The show incisively cut through the societal baggage attached to being a fat woman using humor (hilariously!) and personal anecdotes. The finale video is something I hope everyone eventually gets to see because it is a work of comedy art. I got the chance to meet Ms. Watson after the show and she graciously agreed to answer some questions for me about her performance via e-mail.
Tasha Fierce: Your show uses humor (very deftly) in addressing issues like the media's constant attack on fat women's self-esteem. Have you found that dealing with the pain of society's treatment of you as a fat woman in a humorous way has been effective in your personal journey towards body acceptance?
Erica Watson: Life is funny! I can't control the things that people do to me, but I can surely control my reaction! I have chosen to take it all in stride. By pointing out the absurdity of society's obsession with weight it helps me cope because I can show that I am not the one with the problem! If you do not like a person because of their size then YOU have the issues…..not me!
[read the rest at
Bitch Magazine
…]