Being raw and emotionally vulnerable in public is not something I'm very comfortable with. Talking loudly about sex acts, bodily fluids and consuming large quantities of cake products in public doesn't bother me. Having my tits hanging half out or my skirt hiked up past my ass in public barely registers on my "for shame" meter. Even describing elaborate sexual fantasies in detail on public transportation next to elderly women who are clearly scandalized doesn't make me bat an eye. But when it comes to what's going on in my head, the non-superficial stuff, laying bare my dysfunctional thought processes, I just can't. Not to anyone but those closest to me. At a young age I learned that most people don't want to deal with the unpretty stuff. The things that aren't resolved by reassurances and pep talks. The ugly crying. Dark moods that last months, suicidal panic attacks that occur every day like clockwork, and self-loathing so intense it has a distinct and palpable feeling. Days spent just surviving, not living, not growing, just continuing on the same broken path because that's all you can do. I have been there and I have been silent because that is not the voice I want people to hear. It's not the voice I think other people want to hear. But a lot of the time, it's the voice I have.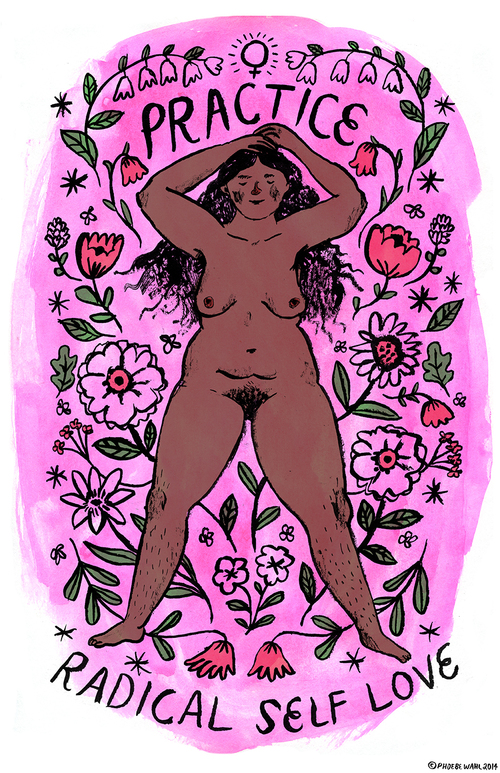 There is so much pressure to be "okay". During the short time I've had this particular blog, I've received a lot of messages from folks, fat, queer, and otherwise, who feel really crappy about themselves for feeling crappy about themselves. They feel like all their "role models" are able to reach that high level of self-esteem, and they can't because they're fundamentally flawed. It's basically meta low self-esteem, and I think the internet and social media in general really contribute to the illusion that there's some kind of pinnacle that you reach when you've achieved something like OT 7 of self love (excuse the Scientology reference). Because we do want to put our best face out there, and we do create an image, whether consciously or unconsciously, that doesn't necessarily reflect our inner world. Society at large isn't exactly accepting of what is popularly considered "weakness", so it's not really shocking that when given the opportunity to filter what other people know about our lives, we leave out the negative. I've always thought I tried to be true to life on the internet, but I've been surprised when I meet people who only know my life from what they read online and have this illusion that it's one big fat awesome party with lots of sex and food. I ended up buying into that trap of thinking that I HAVE to be this certain way to be accepted, that I can't be real and have varying feelings that aren't all I AM HOT, BEING FAT IS AWESOME, I LOVE SEX. When my voice changed from a confident, clarion call for body acceptance and open fat & queer sexuality to a plaintive cry for help out of the dark place I found myself in, I retreated. Like I said, vulnerability is extremely hard for me (and many people) to share and work with in a public way. It opens you up to attack by so many people who want nothing to do but hurt you. People who have been chomping at the bit to see you fall down.
I now know that in vulnerability is strength, but we're not made to feel like it. To so many, talking about actual feelings is "overshare". Sharing negative feelings is just annoying and inconvenient to listen to. If you're feeling less than joyous about life, you must be putting some kind of intention out there that is inviting bad shit onto your doorstep. This is victim-blaming. It impedes openness and real talk. Yet being able to talk things out and share each others' struggles is so vital for building community. I don't endorse letting your personal crazy run roughshod over everyone around you, but we need to make it easier to fall apart for a minute, or an hour, or a month, and still be supported & validated. Those feelings are REAL and whether other people want to admit it or not, they feel them too sometimes.
I've been doing a lot of internal work during these past few months, and also thinking A LOT about the way we represent ourselves in community spaces and how that can contribute to our feelings of isolation. Because it's been really difficult for me to handle socializing lately, even online socializing, I've taken breaks and thus reflected on how I'm affected by the push to be perfect. I, too, have suffered and still do suffer at times from meta low self-esteem. The confidence I once had in abundance is often hard to find these days, so I've kept online communications to a minimum. But I'm finally coming here to share my imperfections and how I'm growing, and hope that maybe knowing that someone who is supposed to be beyond this shit actually ISN'T all of the time will help a few people feel less isolated.
I believe now, wholeheartedly, that to truly be confident you have to accept vulnerability, and embrace it. I'd often been asked how to start loving yourself wholly, and I never really had a good answer other than "just start". I have another answer now–I think that expressing vulnerability, getting past that shame that we have internalized, letting it be known that hey, I'm not there yet, or I was there and right now I'm not, is the first step, and the fifth step, and can really be any step you need to take along the never ending journey that is loving yourself. I want to see a community that encourages vulnerability. Whether you feel shame surrounding your body, or your queerness, or your gender identity, there should be no shame necessary in acknowledging that.
And I've felt a lot of shame in my life about being fat, queer, femme, mixed race, slutty and all that. I wasn't born "fierce". It took me a long, long time to get to where I am now, and fuck it, sometimes I backslide. And I have to admit that, and own it, and hold in my heart a place for that girl who was abused, who was shamed, who is a survivor that still needs nurturing and reassurance sometimes.
We all need to hold a place for that person–for ourselves and everyone else we love, and everyone we should love.